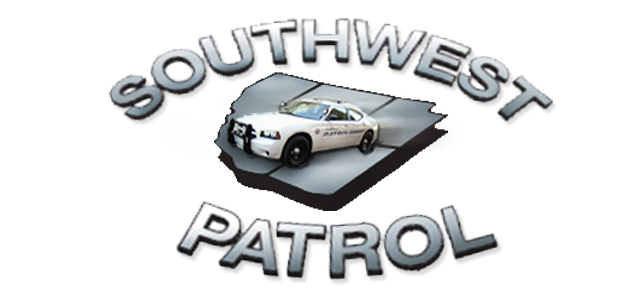 About Southwest Patrol
Serving Southern California since 1994
Southwest Patrol is a fully-licensed and bonded private security company led by a senior management team with more than 45-combined years of experience in law enforcement and private security. Southwest Patrol prides itself by providing its clients with prompt, quality and courteous security officers, 24 hours a day at competitive rates. Southwest Patrol is bonded and insured.
Southwest Patrol employs officers of various experiences, training and certification to meet your company's needs, including bilingual, armed and off duty police officers.
Personnel Selection
Southwest Patrol selection process is an assessment of each applicant's character, ability, reputation, habits, and associates. They are required to take oral and written examinations, as well as complete a thorough background investigation. In addition, a complete criminal history check through the Department of Justice and the Bureau of Security and Investigative Service is conducted. A background check of each security officer is not only conducted by the State of California, but it is mandated and completed by Southwest Patrol. An assessment of each applicant's profile and training is then made to ascertain if their background and prior employment is adequately suited to your company's specific needs.
Additionally, all Southwest Patrol officers receive extensive training to develop their interpersonal-relation skills so that they will be discreet and non-confrontational in situations requiring their intervention. Although the aforementioned seems more than sufficient, we go even further in ensuring quality service. Each shift has patrol supervisors who are accountable for the activities of officers assigned to his/her area and shift. Southwest Patrol endeavors to have each patrol officer visit every officer on every shift to assure that the post orders are being followed to the letter.
Security Officers Personnel Training
Southwest Patrol's security officers are trained and licensed to meet all requirements of the State of California for Private Security Guards, including age, citizenship/residency, and authorization to work in the United States. Once a contract is awarded, Southwest Patrol's operation's team will makes a physical security survey of your property, give you recommendations on how to best protect the property, and once completely approved by you, we create Post Orders. These detailed and comprehensive written instructions are communicated to and explained to the security officers while walking your job site. This on-the-job training is conducted both at the start of the job and reviewed, in part, nightly on an ongoing basis. A copy of these Post Orders is kept both in our corporate office and with all Field Supervisors/ Patrolmen; they can be dispatched to the officer either over the radio and/or in person if more on-the-job training is necessary. Because society is forever changing, Southwest Patrol officers continue training in the latest security and enforcement techniques and are kept up-to-date on the latest laws passed.
Training
Southwest Patrol believes that an effective training program is the best way to distinguish ourselves from our competitors. The better trained our personnel are, the more capable our organization is; in turn, this enables us to better serve our clients. Training is a critically important, on-going process requiring the full-time, concentrated efforts of a dedicated manager. Our Southwest Patrol senior training officer is a hands-on professional who is responsible for the development and implementation of company training programs. Every Southwest Patrol security officer is enrolled in a structured program, from a new-employee orientation to an especially designed, site-specific continuing education program. The senior training officer continually tracks progress, and the training flow is adjusted to allow each security officer the opportunity to achieve the desired results.
Ultimately, Southwest Patrol's security officers who excel are placed into a demanding supervisor-training course. When an officer exhibits the leadership and supervisory skills necessary, he/she will advance within the organization. The Southwest Patrol senior training officer works closely with the operations manager to ensure that training initiatives result in improved operation performance. In addition to managing our proactive training program, the senior training officer is also responsible for maintaining a liaison with the retail-, industrial-, or institutional-facility's manager. Additionally, the senior training officer provides security awareness and loss-prevention training, thereby developing an efficient security network. Taking a teamwork approach enables Southwest Patrol to address client issues and concerns and work towards resolving problems in a proactive manner.
Supervision
All activities are performed under a very important element, close supervision. Additionally, the operations manager and shift watch commander coordinates the activities of all supervisors and impromptu inspections around the clock at no additional cost to clients. Radio communication is constant throughout the evening, with all supervisors and patrolmen reporting what job site they just left, where they are going, and any anomalies when they get there. This is Southwest Patrol's way of ensuring that nothing gets missed. In the event of a serious incident or emergency, the security officer on duty will contact our dispatch and/or watch commander, and a patrol supervisor will respond immediately to your location. The patrol supervisor will then remain at the location until the incident has been resolved.
Uniforms of Personnel, Security Officers, Executive Protection
Southwest Patrol proposes to maximize dress, appearance, and bearing as a means of conveying professionalism and competency to the public. We place great emphasis on how a security officer looks and how they conduct themselves. Southwest Patrol's security officers present a clean, crisp image and conduct themselves with pride; a military bearing conveys a positive and professional image to the public, and the officers are highly visible. We also believe it to be an outstanding deterrent to those who may pose problems for our clients. Southwest Patrol officers have the highest grooming standards and look very professional. The different uniform styles available have been widely accepted in all types of security environments. Their design is subtle, yet authoritative enough for internal or external security use. Should you desire to create your own uniform, tailored to meet the unique requirements of your particular facility, Southwest Patrol will be pleased to work with you to design, adopt, or alter any uniform you wish so that it will meet your requirements and specifications.
Equipment Used
Southwest Patrol's officers are equipped with basic equipment such as flashlights and handcuffs. Other security officers are also equipped with batons, pepper spray, and firearms, depending on the client's specific needs. No officer is permitted to carry any equipment for which he/she has not been properly trained and licensed for. Furthermore, no officer may carry equipment which Southwest Patrol has not previously authorized. Southwest Patrol utilizes the most professional vehicles in the security patrol industry. Southwest Patrol has a fleet of patrol vehicles, all of which are fully equipped with emergency equipment, such as dispatch radios, cellular phones, traffic cones, first-aid kits, emergency lights and spotlights and so on. Southwest Patrol only buys patrol cars brand new; no vehicle is over 3 years old, and we get rid of all patrol cars after 120,000 miles. Each patrol car has a computer that can send reports and can directly contact the client, or vice versa. Southwest Patrol cars have GPS so dispatch has access to all vehicle locations and speed based on GPS.
Call us today for a free security quote: 1-800-716-0600
Our professional staff is standing by to help you with all your security service needs