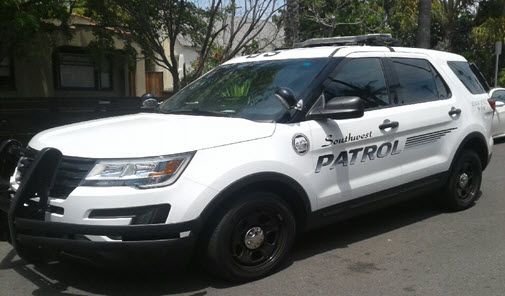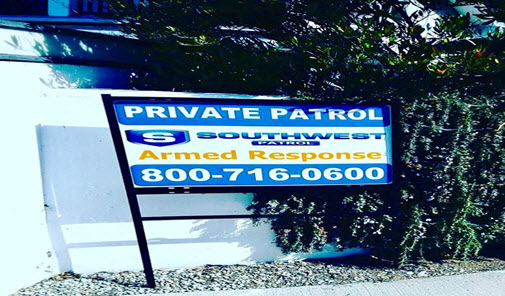 Patrol Security
Southwest Patrol is one of the largest and most trusted security patrol company, locally owned and operated since 1994.  We provides Immediate response to your calls for patrol security needs.  The average response time is 30 minutes or less for patrol security. We have a 24 hour a day dispatch service and our patrol officers are highly visible throughout your HOA, Apartment Complex or neighborhood. Our patrol security can be utilized for for home, hoa, or business. What to expect with patrol service on your property is to protect the property against vandalism or theft. Our commitment to going above and beyond our clientele's expectations is why our client retention rate has stayed so high throughout the years.  As well as increasing our security standards as new technology and security threats have changed.
Southwest Patrol offers patrol service as a security measure and deterrent, by patrolling the parking areas and perimeter of our clients' property. Our patrol service is a cost effective crime deterrent solution. We ensure that each property receives personalized attention from our staff of qualified officers and administrators. From the day we are hired, we are dedicated to each client's individual needs, familiarizing ourselves with the property and personnel of the particular location.  Southwest Patrol offers a dedicated mobile patrol for clients who require a security presence without the added cost of a full-time security guard.  We can provide lock-down service, noise control, property patrol, parking enforcement and on-call emergency services. For private property and gated communities such as HOA communities throughout Southern California we offer full-time uniformed security officers as well as dedicated vehicle patrol services.  Our Southwest Patrol security officer will always be impeccably dressed in one of our uniforms, designed to present an image of authority, professionalism, and deterrence.
Southwest Patrol takes great pride in our vehicles as they must show a high presence in the communities we serve. That is why we never buy used vehicles, all our vehicles are purchased brand new. We here at Southwest Patrol can provide you with marked or unmarked patrol vehicles depending on the patrol vehicles you request and require for your individual location. Southwest patrol uses the best, most professionally-equipped vehicles in the industry. Patrol vehicles are clearly marked and resemble local law enforcement models. Patrol Officers can immediately dispatch local law enforcement, paramedics, and fire, with the on-board, digital-radio dispatch system. Each patrol vehicle has a computer in the car that can send reports and directly contact the client or vice versa. Every patrol vehicle is outfitted with a police equipment package consisting of an on-board computer/radio dispatch system, emergency spotlights, traffic control and emergency equipment including a first-aid kit, traffic cones and flairs, a fire extinguisher, and jumper cables.
Each patrol officer maintains a valid driver's license and must maintain a clean driving record. Our patrol officers are trained and maintain their certifications for the usage of batons, pepper spray and firearms. Our radio dispatch monitors all of our patrol vehicles 24 hours a day / 7 days a week directly allowing views of the location of our patrol cars and the speed limit of our patrol vehicles at all times.
Southwest Patrol services include property lock-ups such as pool gates, laundry and recreation rooms, parking gates, offices, building structures, etc. Patrol services also issuing warnings, citing and towing of illegally parked vehicles, impose property rules and regulations, and respond to nuisance/ disturbance calls.
Patrol officers are Southwest Patrol's most experienced, highly-trained security personnel in the company.
Patrol Security for
• Vehicle Patrol (Residential / Business)
• Alarm Response (Armed & Unarmed)
• Secure Lock-up and Open Facilities Services
• Night Deposit Escorts
• Witness Transport Services / Dignitary Protection / Traffic Control / Motorcade Services
• Airports / Bus Stations / Train Stations / Transportation Hubs
• Apartments and Apartment Complexes / Condominiums / High Rise Buildings
• Commercial Patrol Security / Industrial Patrol Security / Warehouse Building and Lots
• Construction Sites Security / Shopping Centers Security / Retail Stores Security
• And more
Patrol Service
Is available to all Southern California
Call us today for a free security quote: 1-800-716-0600
Our professional staff is standing by to help you with all your security needs.