Southwest Patrol traffic control clients receive access to elite world class protective specialists that mirror the secret service.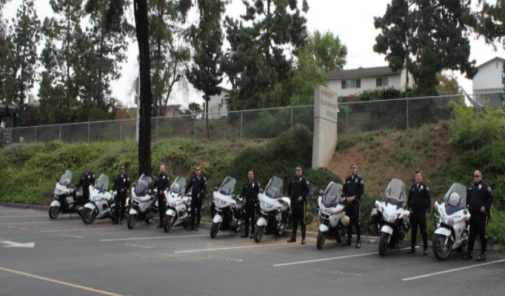 These are actual pictures of our Traffic Control Specialist in uniforms and on our bikes.
We take pride in our patrol vehicles purchasing them brand new and with the latest state of the art technology similar to our law enforcement.
Southwest Patrol's Traffic Control service provides a vast array of traffic-related services from a funeral motorcade to a long term traffic control service projects.  We offer a complete menu of quality traffic control security services such as:
Award Shows, Filming, and Special Events
We are the leader in securing filming projects on locations, major Hollywood awards, after parties around the Los Angeles area.  We have the experience of working with several major motion picture production companies.  Our years of experience in this unique market give us the edge in knowing what precautions to take for crowd control, traffic control service, and how to plan a smooth event without incident. We will take care of all your security needs in this demanding field.
Southwest Patrol also does traffic control for cities major events such as parades, marathons, military parades, block parties, fundraisers, and provide both motorcycle officers as well as patrol vehicles.  For your next event call us for your traffic control and crowd control needs.
Night Club Traffic Control
Special events can sometimes cause major traffic delays and that is why at Southwest Patrol we control the traffic flow outside the event for the street traffic as well as the valet.  We provide night club traffic control to all of southern California.  Night club traffic control is a major traffic issue for the city safety of both motorist and pedestrians.  We have been securing most major Hollywood night clubs weekly to provide traffic control, crowd control and to ensure valet is moving the vehicles out of the parking lot in a timely fashion.
Funeral Procession also known as Funeral Motorcade
Funeral escorts sometimes also known as funeral motorcade is a service we offer with great pride. Please click Here to go to our Funeral motorcade page. Our motorcade page will inform you further on why to choose us for this life event and just how easy it is to hire us and let us service you with honor, dignity and grace for this day. We are the leader in motorcade services in southern California because we care about our clients and take all necessary measures to ensure we conduct our business at the highest level for funeral motorcades.
Construction Traffic Control
Southwest Patrol's traffic control offers a variety of tools to keep your construction site safe and free of security incidents.  We will keep the traffic moving smoothly and avoid interrupting your construction site.  We service all construction sites big or small.