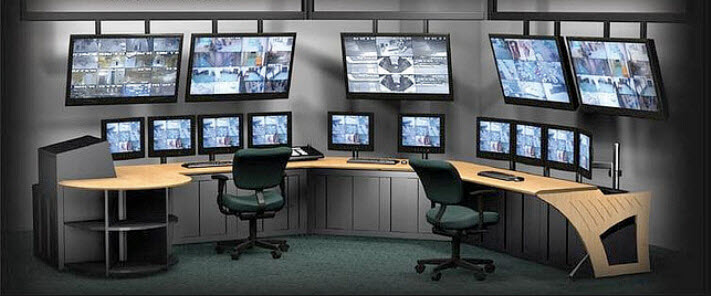 Virtual Guard Service
Southwest Patrol is now offering Virtual Guard service.  As a company that is always following the latest technology in the field of security, we have decided to include this latest innovation in our security services.  Although some companies offer virtual guard services, ours is vastly different than other security companies.  With us you we start with a security assessment of each client's security needs.  Second we advise on placements of the cameras and scope out any other areas that may be easy targets for would be thieves.  Third we have paired the latest tech with our vastly experienced security guards to monitor your cameras.  Fourth, if any alarms are set you don't have to worry about responding to a false alarm.  With us we can determine if the premises needs a security response and we will dispatch the closest patrol vehicle in the vicinity to respond to the call.  With the help of this service, you can get both the advantages of the latest technology and the presence of physical security guards.  Also known as Remote Camera Monitoring, this highly efficient monitoring system that we have created is operated by our professional security guards with years of experience in this field.  By having a virtual guard you still get the surveillance with the live security guard monitoring the cameras. You will also have live alarm response.  Now security needs are higher than ever before and with a virtual guard it's affordable and reliable for everyone.
What is a Virtual Guard?
The Virtual Guard service is all about remote monitoring of your business or residential building.  All you need is cameras and our highly experienced security guards will monitor the property remotely from our headquarters where we have top-notch equipment that allows immediate response to any threat.  This will save you from spending money on false alarm responses.  As well as not having to wait for the police to be dispatched and get to your property.  Not many people know that when you call the police the response time may vary.  You may have had an alarm but by the time the police arrive the trespasser have already left and the theft or vandalism has already taken place. By having access to a virtual guard keeping an eye on your property and immediate response available is key in keeping your property safe in 2017.  Now let's say you don't have any cameras onsite.  Not to worry we can provide you with a security assessment first to determine what the security needs are.  We will then install the cameras and start monitoring your premises right away.  We only carry the latest in security and will never over sell you security that you do not need.  We even offer a Rent To Own Deal for clients that would like to make small monthly installments.  We provide this service because shopping for cameras can be a huge task for our clients that may not have the time to invest in researching what cameras work best for their security needs.  Our custom security packages are surprisingly affordable.
Virtual Guards Save You Money
Virtual Guard service can save you a lot of money. As crime goes up we have more and more businesses and communities calling us for our security services. The need for security is very much needed, but the cost may force companies to go without any security, leaving themselves an easy target for theft and vandalism.  If you are interested in virtual guard services call us today to hear our great rates.  Of course, you can add all the security services you need and we will ensure to get you the best prices on a bundle package. With Virtual Guards there is no time off and your premises are monitored and secured 24 hours a day, 7 days a week if needed, including holidays.
Reliability
Virtual Guard service will provide maximum reliability too. There are no focus issues or human mistakes involved in this process. When we install the system in your home or business, you will get protection at every hour of the day. Obviously, you will have to take care of the maintenance in order to get the best results. Virtual guards don't need sick days, breaks, and they are not distracted by anything. As we already said, there is technology involved in this process which means that they can get a better view in the dark, over the entire property at once, and we can install cameras in the most vulnerable areas.
Wide Coverage
It is impossible to monitor every room and space on the property at all times. But, if you select the virtual guard service, you will solve this problem. Every area in your building or property will be monitored at all time. With the help of this service, you can see more at once and get live warnings. While we are talking about these alarms and warnings, it's also good to point out that the Virtual Guard service that we provide eliminates false alarms and that's another way to save money.
Not Completely Virtual
This unique service is called the virtual guard, but it is not completely virtual. The patrol guards that we have patrolling are also available to our clients for alarm calls. In this way, you are getting a full security service that will ensure that your property and/or building are protected and safe 24/7. Although technology has significantly improved the security industry, the fact is that physical security guards are still very much needed.  When alarms do go off,  we have our virtual guard to check to see if it's a real or false alarm.  If we need to have a security guard out to the property right away we dispatch our closest patrol car to the premises.
Virtual Guard Service – A Great Security Service
As you can see, this type of service comes with a myriad of benefits and we are sure that every residential or commercial client will find these benefits useful. As one of the leading Virtual Guard Los Angeles options, we are here to help you. Watching. Protecting, Always ready. This is how we work. The monitoring and crime prevention technology that we use is matched with trained, qualified, and experienced guards. This is one of the best ways to save your money on the security needs you have while getting a complete peace of mind. All the systems we have are custom designed to your needs and requirements. From homes and businesses to scrap yards and construction sites – we are here to help you!